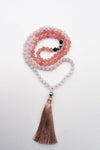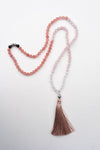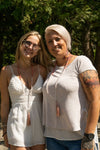 I Am Love Necklace
Shipping calculated at checkout.
Our Mala Necklaces are infused with love, reiki and intention to guide one through their meditation practice. Allowing mantra counting and/or breath-work to be managed easily. Created to empower and support one through their journey.
Specifics:
Handmade with intention & 108 genuine 8mm beads.
Strong grounding, balancing & protecting energy.
Enhances focus, memory and original thought.
Improves mental function, concentration and confidence.
Helps heal anxiety, anger and strengthen relationships.
Enhances perception and analytical abilities.
Purifies and opens heart to promote love, self love and peace.
Restores love, trust and harmony in relationships. 
Encourages protection from depression and sleep disorders.
Heightens spiritual awareness.
Promotes drive and action and inspires passion, happiness and love.
Strengthens one connection to Mother Earth and provides strength & courage.
[Also for essential oil use! Feel free to add a drop of skin sensitive essential oils to the bead -- Avoid spicy senses