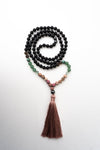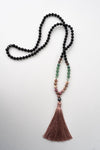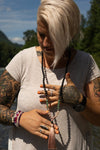 I Am Blessed Mala Necklace
Shipping calculated at checkout.
Our Mala Necklaces are infused with love, reiki and intention to guide one through their meditation practice. Allowing mantra counting and/or breath-work to be managed easily. Created to empower and support one through their journey.
Specifics:
Handmade with intention & 108 genuine 8mm beads.
Strong grounding, balancing & protecting energy.
Enhances focus, memory and original thought.
Promotes compassion and achieving one's highest potential.
Balances and clears emotional wounds and scars from the past.
Brings luck and good fortune.
Alleviates stress & fear and increases vitality. 
Absorbs and neutralizes negative energy and stress.
Increases self-confidence, concentration and decision making.
Improves mental and physical balance and coordination.   
Promotes physical healing of the body.
Increases health and prosperity. 
Eases mood swings and emotional aggravation. 
Encourages acceptance and a more optimistic attitude towards life.
Disperses fear and relieves stress, anxiety and depression.
Promotes positive thought and action.
Manifests dreams and banishes nightmares.
Supplies strength and self confidence.
Promotes stamina and self-control. 
Banishes grief and stimulates decision making. 
Strengthens one connection to Mother Earth and provides strength & courage.
[Also for essential oil use! Feel free to add a drop of skin sensitive essential oils to the bead -- Avoid spicy senses]